One of the most economical permanent marking methods
Can mark logos, graphic designs from your own templates or can be made to your designs
Will mark large varied surface shapes, such as flat, round, concave, convex areas within seconds
Electrochemical marking can produce a high-quality mark very quickly – and at minimal costs.
Our systems can be standalone or semi-automatic.
Fully automatic solutions can also be manufactured upon request.
Please contact us for more information or a detailed quotation.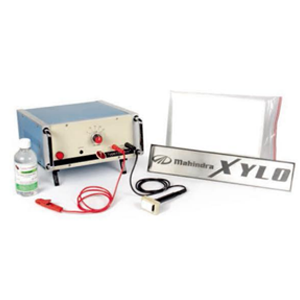 BEL Mark-1
Cost Effective
It is an extremely Low cost/economical and suitable for small batch production.
Features:
Medium Power Transformer with Ac Voltage regulator for controlling the etching depth.
Etching process is limited only for black marking.
User friendly controller
Machine Includes:
Electrolyte – 250ml
Anti rust oil – 100ml
Stencils 3-4 nos. (within 10sq.inch)
Power chord – 1
Red & Black cable – 1
Marking head – 1
Read more